Discover the Verso Hotel tailored to your perfect holiday!
Hotel Verso is a newly built hotel in Mostar, which, with its four stars and a perfect location in the center, just a short walk away from "Stari Most" (the Old Bridge) and close to many famous tourist sites, is the perfect choice for anyone who wants to experience an active, but also a relaxing stay in Mostar. The hotel offers an overnight accommodation & breakfast; it has 10 rooms, a restaurant, a bar, a souvenir shop and its own outdoor parking lot, as well as a garage with 50 parking spaces, and the ability to charge the car electrically. Our services and a friendly staff are ready to make your holiday and stay in Mostar a precious memory and a reason for your return visit.
The Verso's rooms are tailored for work and relaxation. We have ten rooms of modern, contemporary design, elegantly furnished and equipped with high quality equipment. All our rooms are designed to satisfy the needs of experienced travellers and provide them with the greatest com- fort. Each room is equipped with high-end amenities such as high-speed wireless internet, smart TVs, air conditioning and safes. The rooms are equipped with shower cabins, luxury toiletries and hairdryers to ensure a safe stay and full enjoyment. Each room has a small work desk and a closet. All rooms are equipped with soundproof windows and fireproof doors.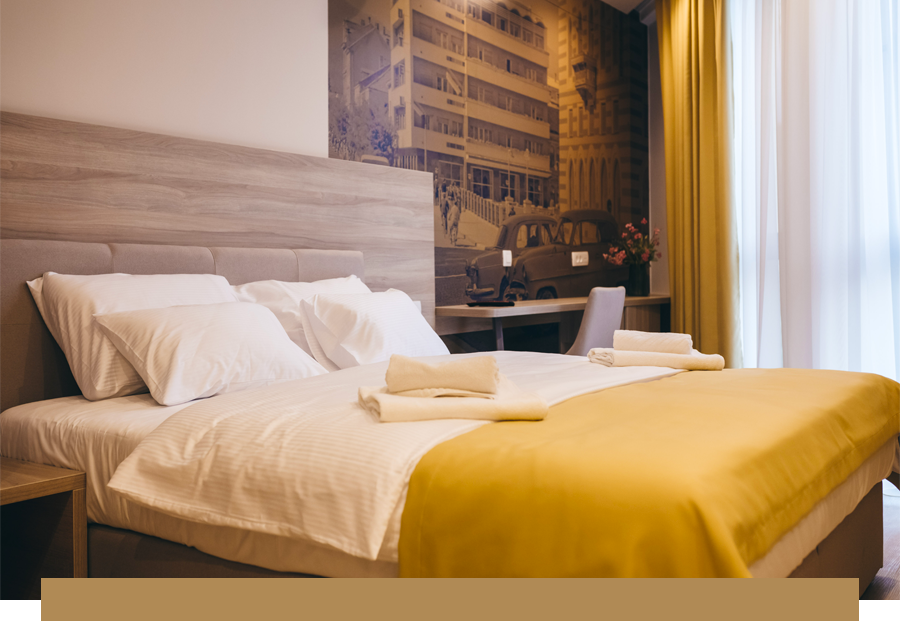 Free Wi-Fi
Family rooms
Studio apartment with the furnished kitchen
UHD LED TV
Rich selection of TV programs
Telephone
Safe
Mini bar
Soundproof rooms
Smoking area
Shower cabin
Hairdryer
Anti-allergy pillows
Room service (on request)
Internal garage
Exterior parking
Charging for electric cars
Air conditioning
A la carte restaurant
Lift
Underfloor heating in the toilet
Bar&Restaurant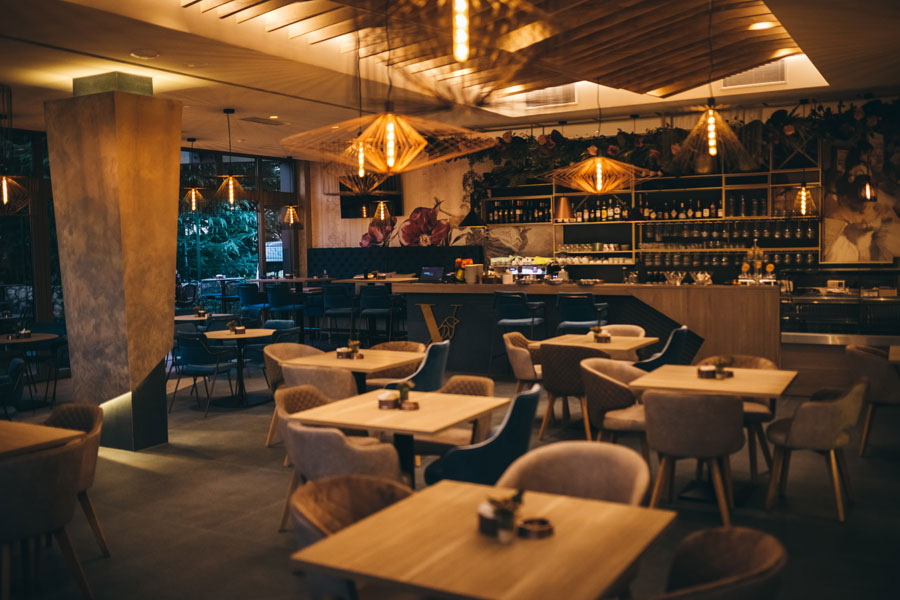 Located on the ground floor of the hotel, the restaurant and the aperitif bar offer contemporary cuisine and a modern version of well-known, favourite dishes, along with a list of carefully selected wines and handmade cocktails. With the exquisite specialties of traditional and international cuisine, we have imbibed the refined flavors that reveal the perfection of every bite. Our restaurant is available to its guests and visitors every day from 07:00 to 23:00. The restaurant is ideal for business lunches, various celebrations or private meetings. Therefore, we invite you to indulge in a gastronomic journey in our restaurant and let our staff perfectly plan your celebrations, mixers and relaxation.
Gift shop
You will agree with us that souvenirs are simply the constant of every trip. Wherever we travel, with whatever tradition we encounter, in whatever city we are in, one thing is for sure – we want to have a tangible memory of the journey. For this very reason, our hotel has a souvenir shop, which is primarily decorated with a variety of assortments that will make sure that you are always reminded of the happy moments spent on the trip, but also to treat your loved ones.
Parking
All our guests and visitors have 40 parking spaces at their disposal located in the inner garage, as well as a spacious us parking lot in the surroundings of the hotel/restaurant. What we are very proud of the fact that we are the first hotel in Mostar to offer our guests a parking space with charging for electric vehicles. Electric car charges are easy to use, and are compatible with all types of electric vehicles. Also within our tourist complex is a parking lot for buses and large public toilet.
Destination
The Boulevard, as the cottage house of Mostar, is the perfect location for the Verso Hotel for those who want to explore the old city center, soak up the lives of locals on the main streets, enjoy bars, shopping or relaxing in the park that houses the famous Bruce Lee statue. Staying in Mostar provides an ideal opportunity to visit many well-known destinations such as Počitelj, Blagaj, Kravica Falls or Medjugorje. The proximity of the beautiful Adriatic coast as well as the mountain pearls provide an ideal opportunity to enjoy in Dubrovnik, only 1.5 hours drive or other numerous activities such as the longest Zip line in BiH, hiking, horseback riding, cycling, rafting and many other activities that are rich in nature in Herzegovina and its surroundings. offers. The Main Station is less than a 5-minute drive away, while Mostar Airport is a 10-minute drive away, making it the perfect choice for all those who chose public transportation as their choice of travel.
Mostar, bathed in sunshine and surrounded by natural beauty, is an attractive tourist location that is ready to meet the needs of either travelers seeking an active or relaxing holiday.